LEGAL ALMANACS FOR THE LAYPERSON

(Buy Now:  Available While Supplies Last)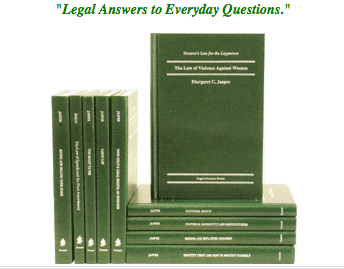 The Legal Almanacs For The Layperson consist of a series of books written for individuals who want a straight to the point overview of a specific area of law. Each legal almanac explores one area of law and explains its basic principles in clear and concise language. The almanacs cover a broad range of legal topics including bankruptcy law, child custody, personal injury, insurance law, domestic relations, small business, estate planning, etc.
EVERY VOLUME INCLUDES:
Overview of the subject.
Chapters on major topics.
Sample forms and checklists.
Excerpts from relevant laws.
Contact information for relevant organizations and agencies.
Bibliography
Glossary
The almanacs are printed exclusively in a hardcover edition, and are available for purchase online.
LEGAL ALMANAC TITLES
AIDS Law (3d Ed.)
The Americans with Disabilities Act (2d Ed.)
Animal Rights Law (2d Ed.)
Auto Leasing (1st Ed.)
Banks and their Customers (3d Ed.)
Becoming a Citizen (1st Ed.)
Buying and Selling Your Home (1st Ed.)
Commercial Law (1st Ed.)
Consumer Rights and the Law (2d Ed.)
Co-ops and Condominiums: Your Rights and Obligations As An Owner (1st Ed.)
Credit Cards and the Law (2d Ed.)
Custodial Rights (1st Ed.)
Dealing with Debt (1st Ed)
Dictionary of Selected Legal Terms (3d Ed.)
Drunk Driving Law (1st Ed.)
DWI, DUI and the Law (1st Ed.)
Education Law (1st Ed.)
Elder Law (2d Ed.)
Employee Rights in the Workplace (2d Ed.)
Employment Discrimination Under Title VII (2d Ed.)
Environmental Law (2d Ed.)
Estate Planning (2d Ed.)
Executors and Personal Representatives: Rights and Responsibilities (1st Ed.)
Guardianship, Conservatorship and the Law (1st Ed.)
Harassment in the Workplace (1st Ed.)
Health Care and Your Rights Under the Law (1st Ed.)
Health Care Directives (1st Ed.)
Hiring Household Help and Contractors: Your Obligations Under the Law (1st Ed.)
Home Mortgage Law Primer (3d Ed.)
Hospital Liability Law (2d Ed.)
How To Change Your Name (1st Ed.)
How To Form a Limited Liability Company (1st Ed.)
How To Protect Your Challenged Child (1st Ed.)
How To Start Your Own Business (1st Ed.)
Identity Theft and How To Protect Yourself (2d Ed.)
Individual Bankruptcy and Restructuring (2d Ed.)
Injured on the Job: Employee Rights, Workers' Compensation
and Disability Insurance Law (1st Ed.)
Insurance Law (1st Ed.)
International Adoption (1st Ed.)
Juvenile Justice and Children's Law (2d Ed.)
Labor Law (2d Ed.)
Landlord-Tenant Law (1st Ed.)
Law for the Small Business Owner (2d Ed.)
The Law of Adoption (1st Ed.)
The Law of Attachment and Garnishment (2d Ed.)
The Law of Buying and Selling (2d Ed.)
The Law of Capital Punishment (2d Ed.)
The Law of Child Custody (1st Ed.)
The Law of Contracts (1st Ed.)
The Law of Copyright (2d Ed.)
The Law of Debt Collection (2d Ed.)
The Law of Alternative Dispute Resolution (2d Ed.)
The Law of Immigration (3d Ed.)
The Law of Libel and Slander (1st Ed.)
The Law of Medical Malpractice (2d Ed.)
The Law of No-Fault Insurance (2d Ed.)
The Law of Obscenity and Pornography (2d Ed.)
The Law of Patents (2d Ed.)
The Law of Personal Injury (2d Ed.)
The Law of Premises Liability (2d Ed.)
The Law of Product Liability (2d Ed.)
The Law of Special Education (2d Ed.)
The Law of Speech and the First Amendment (1st Ed.)
The Law of Trademarks (1st Ed.)
The Law of Violence Against Women (2d Ed.)
Lemon Laws (1st Ed.)
Living Together: Practical Legal Issues (1st Ed.)
Marriage and Divorce (3d Ed.)
Missing and Exploited Children: How to Protect Your Child (1st Ed.)
More Everyday Legal Forms (2d Ed.)
Motor Vehicle and Traffic Law (1st Ed.)
Nursing Home Negligence (1st Ed.)
Pet Law (1st Ed.)
Prescription Drugs (1st Ed.)
Privacy and the Internet: Your Rights and Expectations Under the Law (2d Ed.)
Probate Law (1st Ed.)
Protecting Your Business: Disaster Preparation and the Law (1st Ed.)
Real Estate Law for the Homeowner and Broker (2d Ed.)
Religion and the Law (1st Ed.)
Retirement Planning (1st Ed.)
The Right to Die (2d Ed.)
Rights of Single Parents (1st Ed.)
Small Claims Court (1st Ed.)
Social Security Law (2d Ed.)
Teenagers and Substance Abuse (1st Ed.)
Transportation Law: Passenger Rights & Responsibilities (1st Ed.)
Trouble Next Door: What To Do With Your Neighbor (1st Ed.)
Veterans' Rights and Benefits (1st Ed.)
Victim's Rights Law (1st Ed.)
Welfare: Your Rights and the Law (1st Ed.)
What If It Happened to You: Violent Crimes and Victims' Rights (1st Ed.)
What if the Product Doesn't Work: Warranties & Guarantees (1st Ed.)
Workers' Compensation Law (2d Ed.)
Your Child's Legal Rights: An Overview (1st Ed.)
Your Rights in a Class Action Suit (1st Ed.)
Your Rights as a Tenant (1st Ed.)
Your Rights Under the Family and Medical Leave Act (1st Ed.)
You've Been Fired: Your Rights and Remedies (1st Ed.)